Ryzom
Fantasy meets Sci-fi
Genre:
MMORPG
Publisher:

Winch Gate

Developer:

Winch Gate

Subscription:
Yes

Ryzom is a massively multiplayer online role-playing game (MMORPG) developed by the independent French studio

Nevrax

. The game launched in September 2004 under the name 'The Saga of Ryzom' and received little attention at the time. In August 2006, the name was simplified to 'Ryzom' for marketing purposes. Ryzom is labeled as Science-Fantasy by the creators due to storyline elements that are typically found in both science fiction and fantasy genres. The game's engine, NeL, was created by

Nevrax

and licensed under the GPL. NeL is currently open source and allows anyone to add to it... Here The game earned the Best Story award at MMORPG.COM's 2005 Reader's Choice Awards... Here Allowing players complete control over everything they do is something not many Online games can quote.

Players are not trapped in the "one class only" situation that most MMO's nowadays place them in. Ryzom gives the player the option to learn every single skill in the game, or concentrate on whichever you prefer, for as long as you want; or indeed to what depth you prefer.

Recently players were treated to a new function placed on the left-hand side of the Official Site...Here in the form of Feedback. This evidently shows an uncommon feat from companies and developers alike; what the players want. The feedback site is proving incredibly useful, showing a vested interest by players and what they do, and indeed, do not like in the game.The current owner,

Winch Gate

is showing that with a little time and focus, much can be achieved. Indeed since the departure of Game Forge France, the game has gone from strength to strength, utilising the feedback from players, and the consistant help from the CS Departments.
Wiki News
New Wiki Soon(tm)!
We are currently working on finishing a new privately hosted, ad-free wiki for Ryzom. We hope to have it in a decent state soon, so check back regularly! Here
Guild and Outpost registries transferred to Wiki...
The Guilds list and Outpost Registry previously hosted on the Official Forums have moved to their new homes on the Wiki - please update them if you see something missing! Guilds and Outpost Registry
Wikia forums created...
Wikia forums created, head over there...Link
Official News
New Patch Announced!
A new patch is set to launch next Monday (12 October 2009). More info to come soon! Click Here!
Ryzom on social networking - and IRLs!
The Ryzom devs now have an official blog, Facebook group and Twitter - and Ryzom will be attending an IRL in Bochum, Germany; as well as the Paris Game Festival...Click Here!
Digg that contest!...
The coding contest has spawned a Digg post on their site...Here
Ryzom Summer Coding Contest announced!...
A coding contest has been announced intended to generate enthusiasm for Ryzom development...Click Here
Official client download torrent changed...
The official torrent link has changed, it now supports Windows™ Vista© and Windows™ 7...Click Here
Official Roleplay site launched...
The first 100% dedicated roleplay site is launched for an MMO...Click Here
Patch 1.5.0 Released...
The latest patch is live!...Click Here
To write a new Ryzom Wiki article, enter the page title in the box below.

<createbox> bgcolor=#f3f3ff </createbox>

Information
Ryzom is a completely original MMORPG fusing the worlds of Fantasy and Sci-fi together. Originally created by

Nevrax

, Ryzom is now owned by

Winch Gate Property Ltd

. The game is designed to allow players to interact in an online universe, where live events and concurrent player actions affect the fragile eco-systems, and indeed world balance.
Free Trial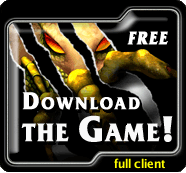 Download your FREE 3 week trial now! No credit card needed and access to everything in game for the duration of your trial period. This includes weapons, NPC's, support, events and much, much more...
Ryzom Ring
Ryzom Ring (R²) allows you to create your own Adventures on Atys. By travelling in the world of Atys you will open up access to more and more landscapes and NPCs to use in your own adventures, culminating in Ryzom's entire plethoric bestiary and a huge number of different terrains across all of the different ecosystems and environments. In just a few clicks you will be able to layout the scenery and NPCs of a new scenario and to open it up to your fellow players. Join the community and enjoy the player-made adventures or develop a taste for playing god as an Adventure Master ("AM")!